Sideboard with motorized height adjustable display holder - "Media Side select".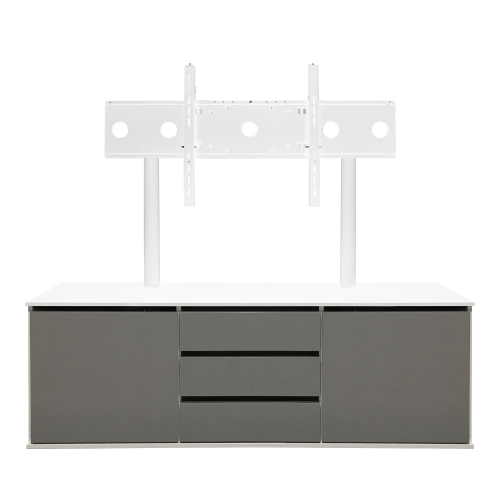 Product description
The wide range of variations makes the Media Side select suitable for equipping any conference room.

You can choose between three cabinet lengths. The Media Side select double has, as the name suggests, two cabinet units. The Media Side select triple (see illustration on the left) has three cabinet units and the Media Side select quadruple has four cabinet units.

The integrated lifting columns with a lifting path of 50 cm remain in the center of the sideboard in each of the above-mentioned versions.

All variants are equipped with doors (incl. shelf) in the standard version. Optionally, you can have the media sideboard equipped with drawers.

A display up to 86″ can be moved approx. 50 cm in height by motor. The stepless adjustment of your display up to max. 130 kg is guaranteed by 2 lift motors.

An up and down switch is attached to the LCD mount and is discreetly located directly below your display. This makes handling as easy as possible for you.

To guarantee a flawless look, the system's own cable management is concealed within the sideboard. For the display connection, a cable duct is located behind the left motorized lifting column. The Media Side Select is equipped with adjustable feet. Smooth-running castors are optionally available.
Features
Made in Germany
For a display up to max. 86"
VESA 100x100 to 1250x600
Doors or drawers
Load capacity up to max. 130 kg
Motorized 50 cm height adjustable
Optically individually adaptable